Lymphoedema films for people living and working with lymphoedema
Submitted by

amccune

on Sun, 2019-10-13 19:00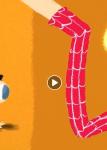 Source:
Lymphoedema Network Wales Framework
Audience:
Patients and public
Professionals
Lymphoedema films for people living and working with lymphoedema 
We invite you to watch a short series of films on how to live with lymphoedema. The films are created by courtesy of the Lymphoedema Network Wales Framework and are produced by PocketMedic.
The films can be watched on mobile phones, tablets or PCs. Each film has been created by NHS healthcare professionals in the UK and their patients, to help with understanding lymphoedema and to support self-management. On this page you will find links for people accessing from outside an ILF frawework country.
The films are divided into five categories covering: